If you happened to be at the E3 convention or were just watching it live on the net, you would have certainly be shocked by what Microsoft delivered today. In total, they officially announced 15 new smashing titles for the 360, some of which were very highly anticipated over the last few months (and even years for some).
Let's start off with the normal stuff then get into the extra neat games/gadgets.
Some casual titles which were announced include 1 vs. 100, Tony Hawk: RIDE, The Beatles: Rock Band and Joy Ride. Images and Video from The Beatles: Rock Band was shown. Obviously nothing too special there, since it's a specialist game for fans of The Beatles. However, what surprised us was the appearance of Yoko Ono, Ringo Star and Paul McCartney. Nothing new really was shown with regards to the other games.
Then came Modern Warfare 2. We have been teased quite a lot lately, plus given some details about Modern Warfare 2. They have announced that the game will be getting 2 timed-exclusive maps, which were revealed in the trailers. Also Left 4 Dead 2 was announced for the PC and Xbox 360. Fans of L4D should be very happy because we all know what fun we had with the first Left 4 Dead. Hopefully the 2nd installment brings us more joy. The game is now "exclusive" to the 360 (not counting PC), so that's another plus for MS.
Now we get to the good stuff. Square Enix has dated Final Fantasy XIII for Spring of 2010. Also they showed a great trailer which can be viewed here. On top of that, Square Enix mentioned the Final Fantasy series has sold over 85 million copies world wide, making it one of the most popular franchises ever.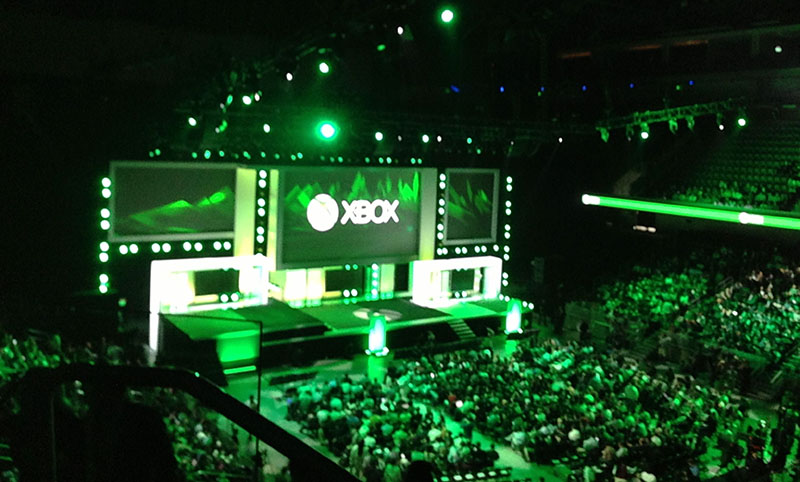 Here is the good stuff now. Forza Motorsport 3 was unveiled, and we were all definitely shocked. Looking at the video and images, we were all mind blown by the visuals alone. Also, the video was very promising, and with 400 cars/100 real tracks to choose from, this might actually be the game that can creep up on Gran Turismo 5.
The next shocker was Halo 3 ODST. Halo has always been the centre piece of controversy as to whether it sucked or was awesome. if you take a look at these videos, I think the fans who hated the game may have to rethink what they said. Halo 3 ODST is carded for release on 22nd September 2009. What was also noticeable was the fact that the Halo 1 pistol is back when you take on the role of "the rookie". Also shown was Halo: Reach, which is set for a 2010 release and is thought to be the prequel to Halo 3 ODST (not confirmed though).
Then came the Alan Wake trailers. The words "Oh My Gosh, This Is Awesome" come to mind when I saw the video. The game reminded me somewhat of a Max Payne feel, but with a much darker storyline behind it. But heck, what can you expect from Remedy Games. So far, it is shaping up to be a very spectacular title and we all really look forward to this one. A lot of features are shared from the Max Payne series, such as realistic environmental interactivity, the slo-mo mode where you can shoot and have it look like the Matrix (heh really sexy). Alan Wake is expected to hit stores in Spring 2010.
Now for the big gun. Remember all the teasing and teasing and teasing that Kojima did? We thought it was another PS3 exclusive Metal Gear Solid (aka MGS 5), we thought Snake was going to be the lead actor, we thought it might actually be a whole name game for the matter. Well it is finally clear. Kojima has announced Metal Gear Solid: Rising for the Xbox 360 and PS3. Now this is where the sparks fly because PS3 fans thought the Xbox 360 couldn't handle a new MGS title. Well, they are wrong. Also, Raiden takes the lead role in the game and not Snake as initially expected.
Ok, now it's time for the techier things. Facebook and Twitter fans should be pretty happy because those programs will now be available on Xbox Live. The Facebook app isn't too fleshed out as it would be on the PC but you can view photos, friends, updates, and add people from the application. Also, twitter will be added, so that's pretty much a plus since everyone is on Twitter these days, even me! Check out some of the interface shots here.
Also coming is the music media application, Last.fm. There are no details though. Also Sky News and Sky Sports shall be coming to the Live TV system even though there were no details on this either.
Now for the juicy bit. MS has announced Project Natal, which is supposed to be what the Wii does, but 10 times better. The technology uses a series of motion sensitive cams to keep track of your body, so when you move, you can control games. Instead of holding a stick, you control the system with your body. It is said to be more accurate since it takes in the X, Y and Z axis lines of movement. The good news is that it will be compatible with ALL Xbox 360s and will be included in all future Xbox 360 systems. Now that's hott.
They spoke a lot about the technology and gave us a demo on 3 games, Paint Party, Project Milo (which looks very awesome by the way) and 3D Breakout.
Microsoft seems to be entering a totally new territory by targeting the casual gaming market with the Natal technology, plus what I can assume are a bunch of casual games, which were not a usual sight on the 360. It can go both ways, either being a total success or a total flop. In my opinion, I am excited about it and I think the Wii may be getting a bit of competition (but they would still hold on for a while to come).
Overall, many thought the 360 was going to the grave and at its peak, but this really isn't the case as we saw today. Microsoft brought us a ton of new games and some very cool Live features (and the Motion controller of course) so we are basically impressed. Now to look forward to the Nintento and Sony keynotes tomorrow.